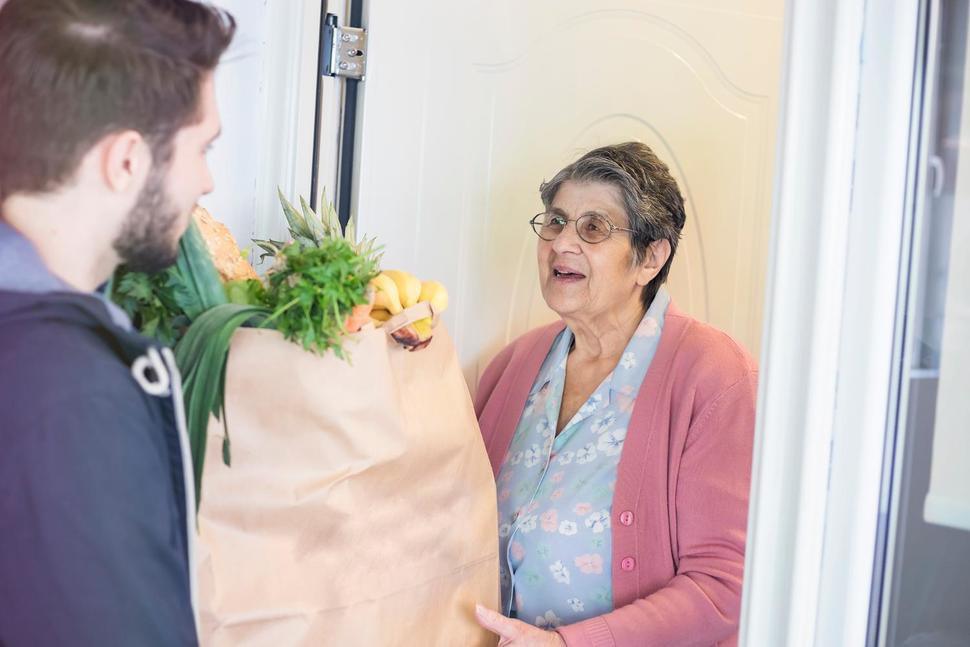 The concept is simple: a healthy meal delivered to your door at little or no cost. It's a lifesaver for about a million older adults in the U.S. who are unable to buy groceries and cook for themselves because they are homebound, sick or struggling financially.
But meal delivery service, typically provided by nonprofit groups, is evolving to include far more than dinner. "We're not just here to deliver food. We're here to help people live longer, healthier, more independent lives," says Elaine Clark, CEO of Meals On Wheels Diablo Region in Walnut Creek, California.
About the Providers
Daily or weekly meal delivery usually comes from charity kitchens, senior centers or spiritual organizations. Some nonprofits receive federal funding through the Older Americans Act, as well as from state or local governments, while others operate only on private donations.
Some groups use the name Meals On Wheels, but they're not all part of one national organization. Every senior nutrition or Meals on Wheels program across the country operates independently. "We don't own the phrase 'Meals on Wheels.' It grew out of such a grassroots movement that our organization was actually established after many of these community programs were already using it," explains Jenny Bertolette Young, vice president of communications for Meals On Wheels America, which acts as a trade association for about a thousand organizations that choose to be members.
Regardless of the name, there are about 5,000 community-based senior meal programs in the U.S., according to Bertolette Young.
[Read: Preventing Senior Isolation – Can You Actually Adopt a Senior?]
Beyond Meals
For many organizations, feeding older adults is just the start of the services they provide. "More and more, the senior-serving community is discovering how issues such as isolation can have negative effects on both physical and emotional health. The more we learn, the more collaborations we can form to increase the support we offer," says Susannah Meyer, community engagement director for Meals On Wheels Diablo Region.
The Diablo Region group now provides more than a dozen services, including elder abuse prevention. "A huge component is training volunteers [who deliver meals]. They see the seniors every day and see changes in their conditions. They alert us if we need to take action," Clark says. Her group employs social workers and collaborates with numerous legal and social service agencies (such as police departments, Family Justice Centers and Adult Protective Services) in order to protect seniors.
An organization in Indiana has also expanded to offer many programs. "In 1973, we got a grant and started off with meal delivery. Now we also do case management, transportation, congregate meal delivery at meal sites, caregiver support, respite support and in-home care management – cleaning services, laundry, nutrition training. We contract with local organizations and businesses," says Robby Tompkins, director of development at LifeStream Services Inc. in Yorktown, Indiana.
"We all do different things. Some operate senior centers. Some provide groceries. Some do pharmacy delivery from local drug stores. In our case, we have a separate program called Grace Place Alzheimer's Centers," says Vinsen Faris, CEO of Meals on Wheels San Antonio.
In-home health care is even available in some places. Meals on Wheels Diablo Region partners with a nearby medical residency program to send young doctors into clients' homes to perform health care evaluations. It also has a fall prevention program that sends physical therapists and other health professionals into clients' homes to help them with balance and strengthening exercises.
[Read: What Are the Secrets to Aging Well?]
Common Programs
Not everyone is fortunate enough to live near a full-service organization that has so many programs for seniors. But some services are easier to find. For example:
Companion care. Many groups can send vetted volunteers into an isolated or lonely client's home for at least three hours per week to visit, tidy up the house, run errands or take the client out to eat or shop. "It's great to have someone come in, sit down and shoot the breeze. They realize they're not alone and there are people out there who care about them," Faris says.
Transportation. "We take clients to medical appointments, hair appointments, the grocery store or anywhere they'd like to go, even to see a friend. Our average client is a 70-year-old widow out in the country with limited access to fresh food and transportation," Tompkins says.
Veterinary care for a client's pet, including pet food. "Folks receiving meals might hold back their daily meal to feed their pets. But these meals are geared toward providing a third of the nutrition that person needs. If they're not getting that, we're not doing our part well," Faris says. "We are also working with the Veterinary Clinics of America to do pet wellness checks and immunizations."
Opportunities to volunteer. Giving back in this way can help stave off depression and isolation. For example, people who've received meals from the Ceres Community Project in Northern California, which feeds people of all ages (the majority are seniors) who have serious illness, have an opportunity to mentor teenaged chefs being trained in the kitchen or deliver meals. "They want to give back because they know how hard it is to go through treatment," says Deborah Ramelli, the group's communication director.
Nutrition education. Food & Friends in the District of Columbia arranges for dietitians to provide clients with individual nutrition counseling. The group also offers cooking classes.
[See: 6 Ways to Age Well and Save Money Doing It.]
Take Advantage of Services
Despite the wide array of services, many seniors don't know the programs exist and don't think to ask a meal delivery charity for help with other problems. "I think there is a misconception that agencies delivering meals offer solely that support," Meyer notes.
It's worth a phone call to your local senior meal nutrition program to ask what's available, even if you don't need meals and regardless of whether you have the means to pay for services. "Meals On Wheels is not income-based. We serve homebound folks. It's based on a person's individual needs," Faris says.
That doesn't mean donations aren't welcome. You may be asked to pay for a service based on a sliding fee scale. It just depends on the organization and how it's funded.
The bigger cost may be the consequence of what happens if you don't receive any services. Isolation and loneliness increase the risk for a long list of health problems – everything from heart disease and diabetes to cognitive decline and even an early death.
That's among the reasons why, say the experts, they are committed to helping seniors on as many levels as possible. "It's what we're here for, and I think about that every day," Clark says. "That's our mission. It's a paradigm shift from I'm a Meals On Wheels organization, I deliver food, to I am here to help your quality of life."