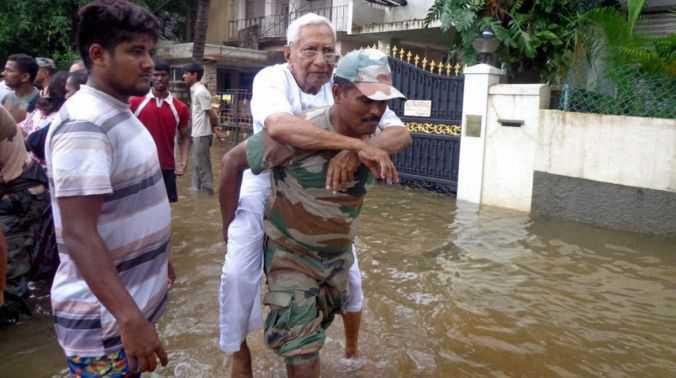 Natural disasters are terrifying for everyone. For caregivers of the elderly they present special challenges because older folks are more frail, less mobile, and unlikely to evacuate a danger zone for a myriad of reasons. In combination these realities make natural disasters especially dangerous for older adults. So please, remember to check on the elderly and incorporate them into your storm and/or evacuation planning and preparation process. In the case of evacuations, encourage the elderly to leave and leave early, but be prepared because they generally resist and prefer to stay in their homes.
Because they are unlikely to evacuate prior preparation is essential to keeping seniors safe. The more planning, preparation, and protocols in place prior to the actual threat the more likely the older person will be able to "weather the storm". Below are tips on emergency preparedness-they can help older people stay safe during dangerous natural disasters:
Personal Support Network – Ideally, PRIOR to the threat of disaster develop or join a network of people specifically assembled to check on each other during emergencies. Make sure everyone is aware of each other and possibly exchange keys so people have access during times of crises. Establish regular communication protocols (and back-up plans in case there is a breakdown). Share information about where to obtain emergency supplies (including first aid kits) and also where they are stored in each person's home. Each individual or home should have an "emergency folder" (kept in a waterproof/Ziploc bag) with relevant emergency health information, list of medications & dosages-include doctor's contact info, list of allergies, specific medical instructions, heath care proxies, contact info for BOTH local and out-of-state family or friends, copies of health insurance cards etc. Keep the information updated. Create plans for BOTH evacuating and staying in place, then make sure everyone knows what to do in either event. Practice before an actual emergency. Identify a meeting place outside of the neighborhood. Subscribe to Emergency Alert Services-many communities now have them. When traveling remember to notify the network.
Notify First Responders – Ideally, PRIOR to the threat of disaster contact Police, Fire, Gas, Utility, and Water companies as well as the Red Cross, CERT (Community Emergency Response Teams) and any other relevant organizations and let them know that a senior resides on the premises. Provide relevant information: name, age, gender, medical or mental health condition, medications, mobility, special dietary needs etc. Also include information about any special medical equipment they require (ex: oxygen tanks or wheel chairs). If a disaster is imminent contact each organization again and remind them of the senior's presence and specifically request they prioritize service restoration or rescue if necessary.
Emergency Supplies – canned foods, hand operated can opener, water, medicines (plus special equipment like insulin needles), toiletries, flashlights, heating source, matches in water tight bag, blankets, generators, fuel, batteries, battery operated radio etc.
Informational Needs – Ideally, PRIOR to the threat of disaster create a list of important contact numbers. Information for public services, emergency shelters, medicines, food, fuel and clothing should be included. Know where and how to find additional information necessary to keep a person safe. Develop a strategy to continuously access and receive information during the disaster-until it is over.
Emergency "Go" Bag - If it becomes necessary to quickly leave a danger zone a "go" bag should be packed and ready prior to the actual need for evacuation. Some people keep these ready at all times while others pack them only during storm seasons. At a minimum they should include a 5 day supply of medicines (preferably 2 weeks), multiple changes of clothing & sturdy footwear, extra eyeglasses, a current list of medicines with dosages, 1 flashlights per person, copies of emergency contact numbers (medical and personal), copies of insurance cards/bank info (in a water tight zip lock bag), ready-to-use portable chargers for cell phones/tablets, food, water, first aid kit, can opener for food, moist towelettes, toiletries, garbage bags & ties, dust masks, cash and/or travelers checks, matches (in waterproof container), feminine or personal hygiene products, paper plates/plastic utensils, pencils and books/games for kids, fire extinguisher, 1 blanket per person, household chlorine bleach & a medicine dropper. [per the Red Cross, 9 parts water/1 part bleach can be a disinfectant or used to treat water in an emergency (16 drops of bleach per gallon of water). Do not use scented, color safe, or bleach with added cleaners.
Hopefully the information above useful, but again, if & when possible the best course of action is to get the elderly out of the storm's path. Stay safe and good luck on your caregiving journeys.